Couldn't have chosen a better Con to pop our exhibiting cherry than the Alternative Press Expo. We had a great time introducing new people to our comic face to face and even meeting a handful of current readers.  We got to make new friends and meet some friends that we've only known online before APE. We exhibited with TNP Press consisting of my table buddy Rembrand of Beadfluff, Joenis of L.A.W.L.S. and his GF Ana, Phillipa of My Cardboard Life and Ali of Rob the Bot.  It was also fun getting to know Ray and Alex of Buttersafe,  staring intentionally awkwardly across the aisle at Cari of DOOR and Savannah of Amya Chronicles, and trading a shot glass for an awesome print from Chris of Toonhole. We're excited to see all these guys at other cons as we hopefully start doing them more regularly. This is what the Hell I looked like behind my table: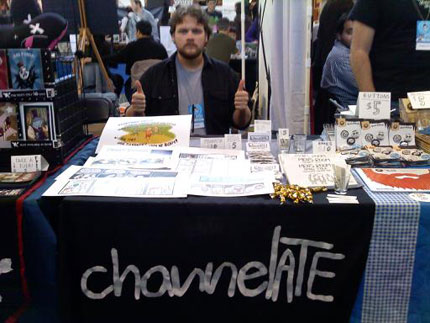 A big highlight for me, which is the reason for the art style choice in this comic, was meeting Tony Millionaire ofMaakies fame. I'm a big fan of his morbid humor, which is probably obvious by my own. He was very approachable and talkative with his fans, which is something I haven't always encountered when meeting my idols. After getting a signed copy of The Maakies Treasury I got the dude behind me to take this picture: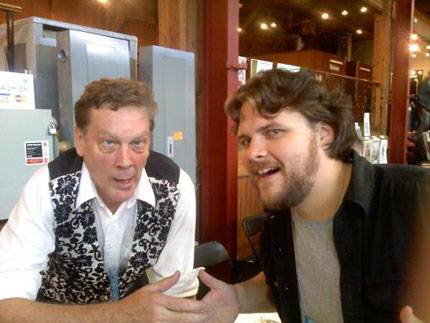 Probably won't be back to APE again, but we'll be keeping you guys posted as we decide on what shows we'll be at next year.
WERD.