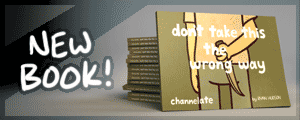 The new Channelate collection, "Don't Take This the Wrong Way" is available now in the STORE! And this time around, I am proud to inform you that the book is in full color, rather than black and white like the first one.  The book collects over 140 comics and 20 bonus strips from late 2009 through 2010.  We are going to start shipping them mid next week.
The Happiness Elixir shot glasses are also available again!
We are working on getting a few other items for the store and will keep ya posted as that stuff happens.