So February 13th was Channelate's 7th anniversary! Kinda hard to believe I've been at it so long. Instead of throwing a raging kegger and drinking away the sorrows of Channelate's birthday being a marker for the passage of time, I spent a lot of that day setting up a Patreon!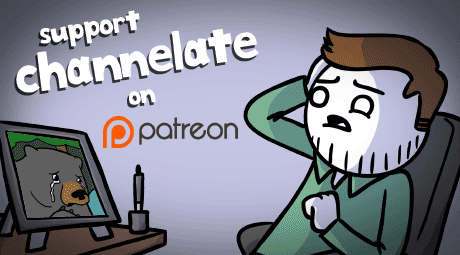 For those of you who aren't familiar with Patreon, they provide a space where you can choose to support your favorite indie artists and entertainers with a monthly donation in exchange for rewards at different tiers. Kinda like an ongoing Kickstarter. There are a lot of great online cartoonists on Patreon right now, like Zach of SMBC, Joel of Hijinks Ensue, and KC Green.
Nothing is going to change about how Channelate is delivered to you. The comic will always be free and come with a bonus panel. But if you choose to support Channelate through Patreon, you'll gain access to some behind-the-scenes stuff that I think you'll enjoy. For the last four years I have saved every single writing session comic I have ever done. To put it into perspective, I seem to average one usable comic idea for every ten warm-up comics I draw in a session. That means I have a whoooole crap ton of rejected ideas sitting in a box. I'll be posting those with commentary regularly on my Patron's Only blog, along with time-lapse videos of me drawing the comics, and even some sketches, notes, and finished art about other cartoon ideas. You'll basically be the first to see or hear about new things coming up.
I'll be adding other tiers as I go along. I'm working on getting the Channelate books turned into eBooks, so those can be delivered to patrons through Patreon. So, please take a look at my Patreon page. But as always, thank you so much for just reading my comics and sharing the ones you like. Channelate wouldn't have any of the success it's had so far without your sweet, sweet lovin'.